KNOTTED WORDS CELTIC ART, a company I created while on maternity leave, combines CELTIC ART with LITERARY QUOTATIONS.
Drawing from FAIRY TALES, FANTASY, NURSERY RHYMES, POETRY, INSPIRATIONAL QUOTES, and GOTHIC LITERATURE, Knotted Words Celtic Art sells Celtic art prints, Celtic art apparel, and Celtic art gifts for BABIES, CHILDREN, TEENS, and LITERATURE LOVERS of all ages.
NEW! ECOFRIENDLY YOGA CLOTHING at my Art of Where Store.
SHOP at our Fine Art America/Pixels.com Shop
FEATURED PRODUCTS:
Celtic and Nature's Mandalas leggings
Journals, Computer Sleeves, and iPad Cases
Gift Boxes, Clocks, and Other Cool Stuff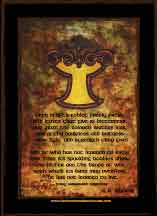 JOIN the Knotted Words Celtic Art EMAIL LIST and receive a FREE, print-quality 8" x 11" image of THE CELTIC GOBLET OF LIFE (pictured above).