I provide holistic, psychological services to adolescents and adults in the Halifax/HRM area. I am currently located in a beautiful office on Agricola Street, right in the heart of North End Halifax, Nova Scotia.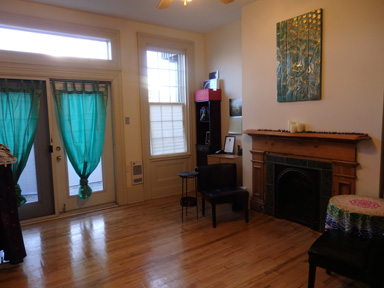 I offer three streams of holistic psychotherapy: Mind/Body Psychotherapy, a mindfulness-based psychotherapy for adolescents and adults, Yoga Fusion Psychotherapy, a unique combination of psychotherapy and yoga therapy for adults, and Goddess Yoga Psychotherapy, a fusion of yoga and psychotherapy specifically geared towards women who want their psychotherapy uber spiritual and uber holistic.
I am now offering Goddess Yoga Classes, a unique fusion of vinyasa yoga and bellydance. Private Goddess yoga classes and online yoga classes are also available.
NEW! I have just launched my new line of ECO-FRIENDLY YOGA CLOTHING, now available for sale online. Made of ecopoly fibre that uses 70% less water to produce than most other fabrics, these yoga tanks, leggings, capris, headbands, and more not only look stylish, but also help to decrease our environmental footprint as well. Some of my products are also available for purchase on location at my office.
If you have found your way to this page and are also interested in inspirational Celtic artwork, please check out my sister site, Knotted Words Celtic Art.